[
Homepage
] - by:
Salty Brine Software
-
Download links for FolderClone Professional Edition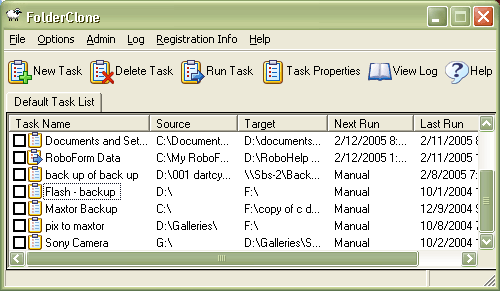 Click to enlarge
Description:
FolderClone Professional provides fast, flexible and easy backup, synchronization, replication, and mirroring of important files on most storage media. FolderClone pro includes all of the capabilities of FolderClone Standard Edition along with important additional features.
FolderClone pro is beneficial to individual users, small businesses (SOHO), and large corporations. Individual users will find FolderClone pro essential for backing up their data files and/or synchronizing their laptops to their desktops. For large enterprises and small businesses alike, FolderClone pro is part of the network infrastructure needed to maintain high file availability, protect your files, and share files throughout your organization.
FolderClone pro arranges your synchronization needs in sets of "tasks". A task is a set of specifications that tells FolderClone what files/folders you want to be copied, where you want them copied, and how often you want this done. Once configured, FolderClone monitors the "source" folders for changes or updates and copies new or changed files to the "target". This process runs automatically in the background without any further user-interaction required.
Some Features:
- Easy to use Interface for simple creation and maintenance of tasks.
- Lists of synchronization tasks can be Created/Loaded/Saved
- Batch execution of tasks
- Three different file comparison methods: Date/Time, Size, and Contents
- File copy only occurs if target files are actually different than the matching source file.
- Option to Include/Exclude Sub Folders
- Option to include "All Files and Folders" or "Only Selected Files and Folders"
- Interval options include: Manual, Every Few Minutes, Every Few Hours, Every Few Days, and Only On Selected Days
- Copies NTFS Security Attributes
- Locked/In-Use/Open File Support
- E-mail Notifications
- All synchronization activity and errors are logged
- Report of folder differences can be generated
Recent changes in this Minor Update:
Please see the history page on the website.
Remarks - Comments
(
Add a remark about this program
)
<!Comments><!Comments>