[
Homepage
] - by:
Digital Karabela - Andrzej Kilijański
-
Download links for Agile Commander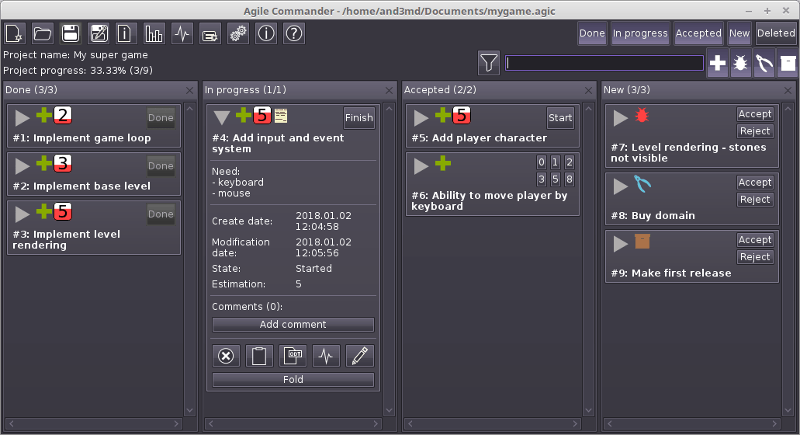 Click to enlarge
Description:
Agile Commander is a simple project management program. Its goal is to be extremely powerful for single programmers (indie developers, freelancers, start-ups) and small teams. Agile Commander is consistent with the software agile principles, scrum software development techniques and Japanese inventory-control system named kanban. Its also a good bugtracker. Available for Windows and Linux.
Which Agile Commander feature decide, that program is designed especially for single users or small teams? Most of all Agile Commander:
- is classic application - don't need server or any additional infrastructure, you can use it on your own computer;
- have got small hardware - requirements application need after launch just about 40 MB RAM, don't strain your computer resources and dont affect its efficiency when is off;
- made you an owner of your data - every project is written in custom file in JSON readable format, don't need to install any database server;
- made your actualization under control - while Agile Commander is a common desktop application, you don't need to worry that at a crucial moment of your project the web application provider make fundamental changes or end the services. It only depends on you when you switch to a newer version of the software;
- minimal configuration process - the program is ready to work immediately after installation, unified story properties facilitate communication with other users of the program;
- work offline - you do not need an internet connection, work wherever you be without worrying about accessing your data;
- had perpetual license - no monthly fees (subscription);
- had quick story filtering by using text and easily accessible story type buttons.
Other important features of the application:
- moving story between columns using dragndrop
- activity log full history of changes in the project with convenient filtering
- project statistics you can check the current state of work at any time
Recent changes in this New Release:
First initial release.
Remarks - Comments - Reviews
(
Add your opinion about this program
)
<!Comments><!Comments>