[
Homepage
] - by:
IntelliAdmin, LLC
-
Download links for Network Administrator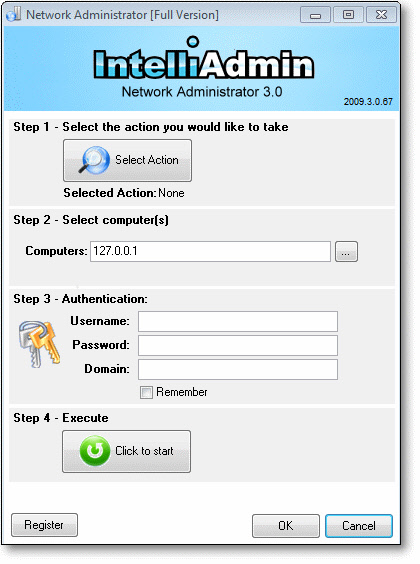 Click to enlarge
Description:
Network Administrator
Network Administrator allows you to make tweaks, changes, and updates across your network. It has an amazing plugin system that is packed full of actions.
Network Administrator can:
Change network configuration
Want to switch 1000 hosts to DHCP? Have new DNS servers? No problem, with this plugin you can change them in a few clicks
Daylight Saving Time Update
Easily update those older NT 4.1, Windows 2000, and XP machines to the latest DST settings without being forced to purchase a $5000 patch from Microsoft.
Disable CDROM and DVD Drives
Keep users from installing unwanted software. Disable and enable their CDROM / DVD drives with ease.
Disable CDROM and DVD Burning
Keep users from copying data off your network. Disable DVD and CD burning while allowing users to still have read only access.
Set Excel 2007 to save in the older format
Having a problem with users sending Excel 2007 documents to people outside your network? Reduce those help desk calls by forcing all of your Excel 2007 users to automatically save in the 2003/XP format.
Disable Floppy Drives
Prevent users from accessing their floppy drives and installing unwanted software.
Folder copy
Have a set of shortcuts you want to copy to everyone's desktop? Or a configuration file you need to place on their C Drive? Use the folder copy plugin to copy files and folders to many machines in just a few clicks.
Block IE 7 Automatic Install
Need to keep IE 6 on your network, and want to prevent those dreaded calls after users install IE 7? Use the IE 7 blocker to prevent the automatic install of IE 7.
Block IE 8 Automatic Install
Keep IE 7 standard on your network by blocking the automatic install of IE 8
Block IE 9 Automatic Install
Keep IE 8 standard on your network by blocking the automatic install of IE 9
Kill Processes
Recent changes in this Major Update:
Updated for Windows 7, and x64 Support
Remarks - Comments - Reviews
(
Add your opinion about this program
)
<!Comments><!Comments>