Want a better software to manage your Web site more quickly and efficently? Click here for more info about EasyWebEditor...
Websites and CD DVD product catalogs with a single professional tool, in a single step? Yes it is possible:
HyperPublish
(BELOW!) FREE DOWNLOAD LINKS FOR:
Easy Card Creator Professional 15.25.78
Professional Edition is the solution that provides you with a full set of tools to satisfy a wide range of design and print application requirements, each with a supreme level of professionalism and quality. The straight-forward user interface and great design capabilities make Professional Edition the software of preference for users of all skill levels, from beginner to expert.
(description, more information,
click here - The most versatile identity card design software!
)
File size: 85038 Kb
Free Download link 1:
Click here to start the download for Easy Card Creator Professional (then choose Save)
WARNING
: we suggest to scan the files with an
antivirus
before installing them - we do our best to screen each file reviewed on GetSoftware, but we don't re-scan them each day, and so, better safe than sorry!
The download link was perfectly working at the time of our review and the related inclusion in this archive, and so when we did our last test; it is provided by the software house and sometimes can be -temporarily- offline or so.
Please
kindly use the contact form
to report difficulties, strange behaviors or persistent problems, and quote the program name or the number 1922 .
The ideal choice for small to medium sized organizations and individuals looking for an affordable photo ID card solution. Professional Edition offers an ideal photo ID management solution that is both powerful and easy-to-use.
(
The most versatile identity card design software!
)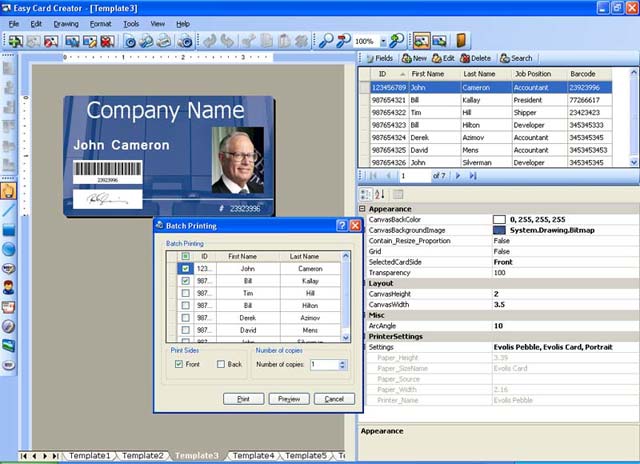 Download page for the app Easy Card Creator Professional - Professional Edition is the solution that provides you with a full set of tools to satisfy a wide range of design and print application requirements, each with a supreme level of professionalism and quality. In addition to its various tools, the straight-forward user interface and great design capabilities make Professional Edition the software of preference for users of all skill levels, from beginner to expert. Whether you need to print shipping labels with complex barcodes, or ID cards for your employees, Professional Edition serves all your desires with simplicity and flexibility.
Major features:
Perfect tool for graphic personalization of ID cards
Provides plenty of different predefined print formats
Supports unlimited number of employees
Easy one click Photo Capturing