App Program Handy Password manager download
Want a better software to manage your Web site more quickly and efficently? Click here for more info about EasyWebEditor...
Websites and CD DVD product catalogs with a single professional tool, in a single step? Yes it is possible:
HyperPublish
(BELOW!) FREE DOWNLOAD LINKS FOR:
Handy Password manager 4.9
Fill out forms and log into sites automatically with Handy Password. You can securely save your logins and passwords to an encrypted database, generate random passwords and recover the ones you have fully or partially forgotten. You can keep your password database on an email server. Installed on a USB drive, password manager can be used on any PC without installing the program on local machine. Allows multi-user access to password database.
(description, more information,
click here - Enterprise and home password manager: automatic login and form filling.
)
File size: 4570 Kb
Free Download link 1:
Click here to start the download for Handy Password manager (then choose Save)
WARNING
: we suggest to scan the files with an
antivirus
before installing them - we do our best to screen each file reviewed on GetSoftware, but we don't re-scan them each day, and so, better safe than sorry!
The download link was perfectly working at the time of our review and the related inclusion in this archive, and so when we did our last test; it is provided by the software house and sometimes can be -temporarily- offline or so.
Please
kindly use the contact form
to report difficulties, strange behaviors or persistent problems, and quote the program name or the number 8942 .
Password Manager helps to surf the Web faster. Handy Password is installed on a PC or a USB key, and automatically logs you into online accounts, and fills in online forms, while your employees can login to accounts without knowing account passwords.
(
Enterprise and home password manager: automatic login and form filling.
)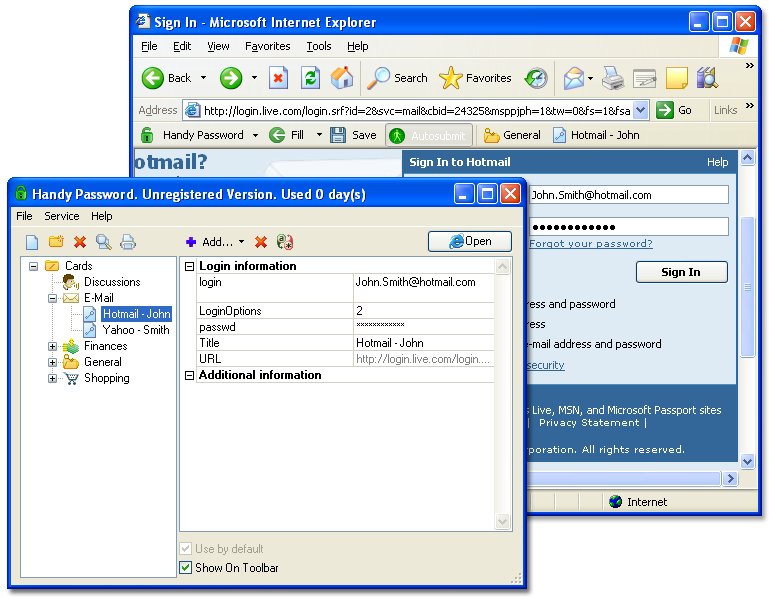 Download page for the app Handy Password manager - Fill out forms and log into web sites automatically with the most reliable and easy-to-use Internet Explorer and Mozilla FireFox add-on. Handy Password is built into your browser's toolbar making web search fast and secure. It stores user all user data with bookmarks to favorite websites. With one click Handy Password will navigate to a website, enter username and password and submit them. To make your online experience even more secure, the program generates random passwords, which are complicated and crack-proof. All logins, passwords and other personal data are saved to a database, encrypted with 128-bit algorithm and protected with Master Password against unauthorized access. This way all user data are secured against theft. Moreover, Handy Password may perform password recovery operations in case you fully or partially lost or forgot a password. In addition, Handy Password allows multiple users to access password database using either administrator or user rights. Employees can access accounts without knowing corporate account passwords. To ensure Handy Password database protection from loss, you can keep it on e-mail server. You can access your passwords and other data from anywhere at any time. Installed on a USB key drive, Handy Password can be used on any PC without installing the program on local machine. Just plug your USB drive into any USB port, and you will automatically log into online accounts, fill in online forms, or access your offline data such as emergency contacts, passport, social security data. Your personal information never appears on a client PC. Once the USB drive is removed, all traces of Handy Password are removed from the PC. To store the information, Handy Password uses a convenient card system that can be organized according to user preferences. Handy Password manager operates under Windows 2000/XP/2003/Vista/7 with Internet Explorer v.6, 7, 8, FireFox v.3.5, 3.6, requires less than 5 MB of free disk space.