Want a better software to manage your Web site more quickly and efficently? Click here for more info about EasyWebEditor...
Websites and CD DVD product catalogs with a single professional tool, in a single step? Yes it is possible:
HyperPublish
(BELOW!) FREE DOWNLOAD LINKS FOR:
Doxillion Plus Edition 4.54
Doxillion Plus Edition can convert many different text document formats. Doxillion Plus Edition features a batch convert option to convert thousands of text documents at once. Doxillion Plus Edition also includes a right-click menu to easily convert documents outside the program. Drag and drop makes converting your files simple and fun.
(description, more information,
click here - Doxillion Plus Edition is a professional and easy to use document converter.
)
File size: 1618 Kb
Free Download link 1:
Click here to start the download for Doxillion Plus Edition (then choose Save)
Free Download link 2:
https://www.nch.com.au/components/doxillionsetup.exe
WARNING
: we suggest to scan the files with an
antivirus
before installing them - we do our best to screen each file reviewed on GetSoftware, but we don't re-scan them each day, and so, better safe than sorry!
The download link was perfectly working at the time of our review and the related inclusion in this archive, and so when we did our last test; it is provided by the software house and sometimes can be -temporarily- offline or so.
Please
kindly use the contact form
to report difficulties, strange behaviors or persistent problems, and quote the program name or the number 6406 .
Doxillion Plus Edition is a multi-format document converter and one of the fastest ways to convert DOC, DOCX, PDF, Word, and other formats. Use Doxillion Plus Edition to convert batches of documents easily.
(
Doxillion Plus Edition is a professional and easy to use document converter.
)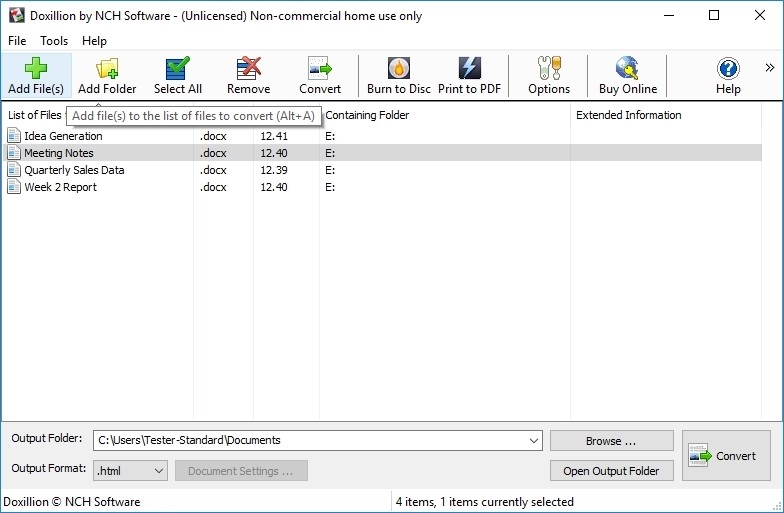 Download page for the app Doxillion Plus Edition - Doxillion is a PDF converter to convert docx, doc, rtf, html, xml, wpd, odt, txt and other text file formats. Convert a single file or batch convert several PDFs at a time. Easily add Doxillion to your right click menu to add fast and simple conversion functionality to all supported formats.

Doxillion Plus Edition Features:
* Convert between PDF and several other well known file formats
* Supports doc and docx conversions for Word files
* Convert source code to html
* Batch convert many PDF documents at the same time
* Add a right click option to convert PDF and other files without opening Doxillion
* Drag and drop PDFs to be converted into Doxillion
* Use with Express Burn CD and DVD Burning Software to create backups of files