App Program PhotoStage Pro Edition download
Want a better software to manage your Web site more quickly and efficently? Click here for more info about EasyWebEditor...
Websites and CD DVD product catalogs with a single professional tool, in a single step? Yes it is possible:
HyperPublish
(BELOW!) FREE DOWNLOAD LINKS FOR:
PhotoStage Pro Edition 9.95
PhotoStage Pro Edition is a fantastic and professional slideshow creation tool. Simply drag and drop images to arrange the slides. You can also use a folder of images with the Quick Create feature. PhotoStage Pro also includes many effects including zoom, crop, fade, pan, zoom, and more! You can also touch up or enhance your photos with optimization tools. You can easily share your slideshows by burning to DVD or saving the video file.
(description, more information,
click here - PhotoStage Pro Edition creates dynamic slideshows from your photos.
)
File size: 3573 Kb
Free Download link 1:
Click here to start the download for PhotoStage Pro Edition (then choose Save)
Free Download link 2:
https://www.nchsoftware.com/slideshow/pstagesetup.exe
WARNING
: we suggest to scan the files with an
antivirus
before installing them - we do our best to screen each file reviewed on GetSoftware, but we don't re-scan them each day, and so, better safe than sorry!
The download link was perfectly working at the time of our review and the related inclusion in this archive, and so when we did our last test; it is provided by the software house and sometimes can be -temporarily- offline or so.
Please
kindly use the contact form
to report difficulties, strange behaviors or persistent problems, and quote the program name or the number 5525 .
PhotoStage Pro Edition for Windows makes creating a slideshow easy and fun. Share your memories with a professional multimedia slideshow. Easily combine pictures, video clips, narration, and music. Burn your slideshow to a DVD or share online.
(
PhotoStage Pro Edition creates dynamic slideshows from your photos.
)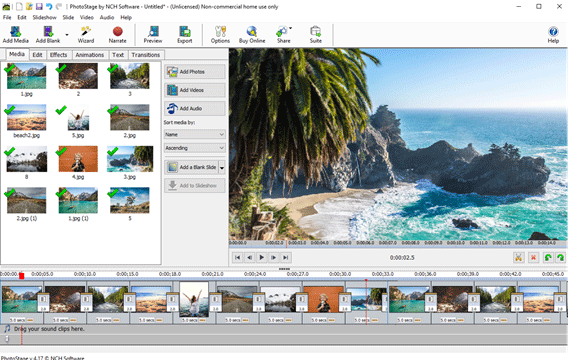 Download page for the app PhotoStage Pro Edition - Create a slideshow from your videos and/or digital photos on Windows and apply effects such as fade, crossfade, zoom and much more. Burn your slideshow to DVD for playback on TV, or as a standalone video file for enjoying on web and portable devices. Add a soundtrack, narrative or text captions to further enhance your memories. Touch up or enhance your photos and videos with ease.

Transition Effects:
* Panning and zooming effects let you bring your photos to life.
* Fade transition effect gives your slideshow that professional touch.
* Preview the effects in real time.
* Customize the duration of the effect.

Photo Optimization:
* Fine tune brightness, saturation and color for photos and video.
* Add your favorite photos with a click of a button.
* Crop, rotate and flip photos easily and preview the changes in real time.
* Add text captions to individual slides.
* Add video clips for a complete slideshow presentation.

Audio Tools:
* Add music tracks to your slideshow.
* Record narrations with the click of a button.
* Import pre-recorded narrations

Share:
* Burn to DVD and watch in your living room on your TV.
* Show off your latest pics and clips on PSP, iPod, iPhone, 3GP mobile phone or Pocket PC.
* Explore the most advanced way to burn HD DVDs
* Output video files and share your creation with more friends on computer or through Internet.

Supported Formats:
Input:
* Image: bmp, gif, jpg, jif, jiff, jpeg, exif, png, tif, tiff, psd, tga, pcx, wmf, ico
* Audio: wav, mp3, mp2, mpga, m4a, ogg, avi, mid, flac, aac, wma, dct, au, aiff, ogg, raw, msv, dvf, vox, cda, atrac, gsm, dss, sri, shn, dss, msv, wmv and many more.
* Video: avi, mpeg, wmv, divX, Xvid, mpeg1, mpeg2, mpeg4, mp4, mov, asf, vob, ogm, .3gp, H.264, RM and many more.