Want a better software to manage your Web site more quickly and efficently? Click here for more info about EasyWebEditor...
Websites and CD DVD product catalogs with a single professional tool, in a single step? Yes it is possible:
HyperPublish
(BELOW!) FREE DOWNLOAD LINKS FOR:
Advance Bulk Mailer 2.6.2.32
It is a tool designed to send Emails in huge number to various recipients at one time delivering directly to Inbox. The software consists of amazing features which save the time & effort of the user. Users can send personalized emails to some preferred people. It also generates a log sheet which keeps user updated about the success & failure of the emails sent. The software is the best tool to send emails to a lot of people in lesser time
(description, more information,
click here - This tool can send emails to 1000's of receipents in short time
)
File size: 2188 Kb
Free Download link 1:
Click here to start the download for Advance Bulk Mailer (then choose Save)
Free Download link 2:
http://www.technocomsolutions.com/downloads/rar/advance-bulk-mailer.rar
WARNING
: we suggest to scan the files with an
antivirus
before installing them - we do our best to screen each file reviewed on GetSoftware, but we don't re-scan them each day, and so, better safe than sorry!
The download link was perfectly working at the time of our review and the related inclusion in this archive, and so when we did our last test; it is provided by the software house and sometimes can be -temporarily- offline or so.
Please
kindly use the contact form
to report difficulties, strange behaviors or persistent problems, and quote the program name or the number 8540 .
Advance bulk mailer is a tool which can send the 1000's of mails to various recipients in short time delivering directly to Inbox. The software has latest features which saves time & effort of the user.
(
This tool can send emails to 1000's of receipents in short time
)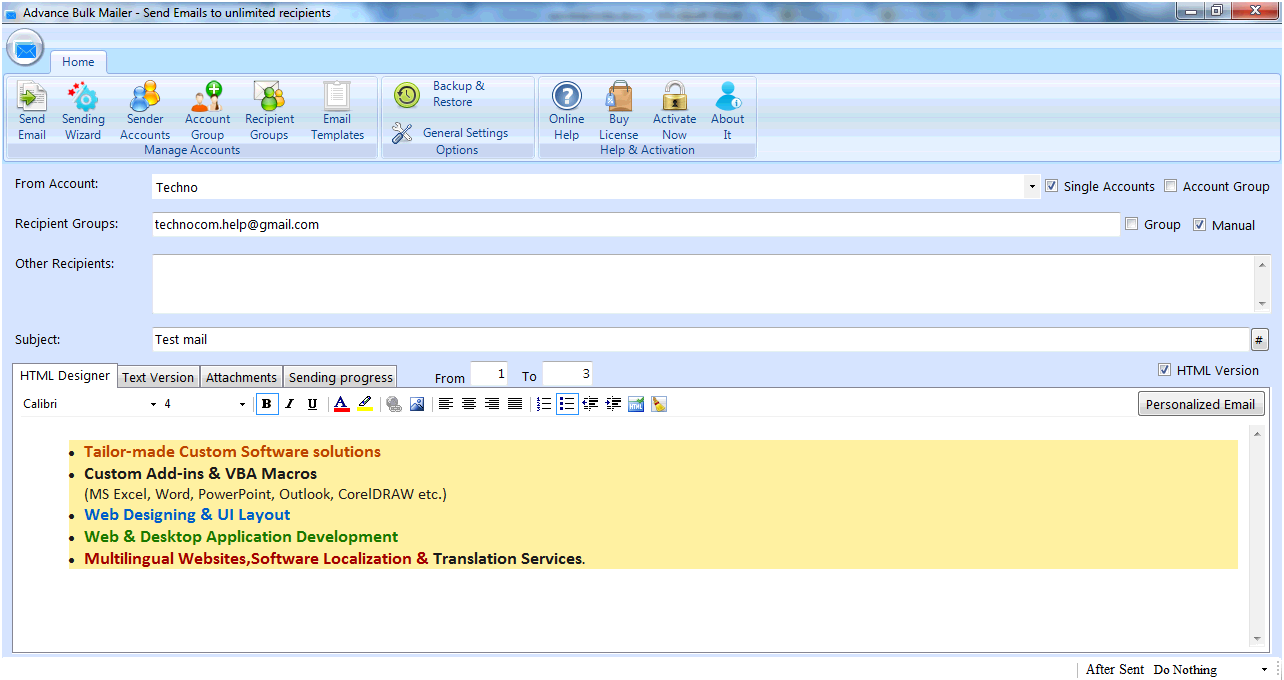 Download page for the app Advance Bulk Mailer - Advance Bulk Mailer is a tool which can send emails in 1000's of recipients in very less time directly to Inbox. The software can send personalized mails to certain selected recipients also. The speed of this tool amazing and it saves a lot of time of the user. The user can also save the matter of the mail sent for future use. The software is really the best tool for this use.

This Advance Bulk Mailer tool has some extraordinary features which other software definitely lack in them. The user can send mails to multiple recipients in one click. You can either type the IDs or if you have already saved them then you can drop that list and then can send mails to all those IDs. You can also choose some particular recipients and can send mails to those selected people only. This saves a lot of time of the user. The tool also generates a log sheet to inform the user about mails which are successfully sent and which are failed. This reduces the effort of the user and keeps him updated.

Though Advance Bulk mailer is a highly advanced tool but to operate this tool is very easy as compared. The first thing user needs to do is to create an SMTP account through which you can send mails. You can also send an SMTP group also to whom you will frequently send messages. In the second step, you can use assign or choose a template for your mail. In the third step, you have to write the matter. At last, you have to send the mails to the recipients you have selected.

After the sending the mails you can go on option Backup and can keep the record of this whole process saved. Whenever you want that data kept as Backup then you can click on Restore.

The software Advance Bulk Mailer is flexible to work with all versions of windows whichever is installed in your system. It can be very beneficial for the organizations and corporations who basically do online marketing. The features, speed, and accuracy make this tool the best bulk mailer in this particular department.