Want a better software to manage your Web site more quickly and efficently? Click here for more info about EasyWebEditor...
Websites and CD DVD product catalogs with a single professional tool, in a single step? Yes it is possible:
HyperPublish
(BELOW!) FREE DOWNLOAD LINKS FOR:
ClickCharts Pro Edition 4.01
ClickCharts Pro Edition lets you design flowcharts and diagrams easily with this software. Quickly create strong visuals of an organization, process, mind map, UML diagram and more. Map out your value streams and data flow. Find bottlenecks in the process and ways to optimize productivity. Jump start the process with template options or start fresh with your choice of shapes, symbols, line connectors and more. Export to jpg, gif, png and more.
(description, more information,
click here - ClickCharts Flowchart Pro Edition allows you to create visual representations.
)
File size: 720 Kb
Free Download link 1:
Click here to start the download for ClickCharts Pro Edition (then choose Save)
Free Download link 2:
https://www.nch.com.au/components/clickchartsetup.exe
WARNING
: we suggest to scan the files with an
antivirus
before installing them - we do our best to screen each file reviewed on GetSoftware, but we don't re-scan them each day, and so, better safe than sorry!
The download link was perfectly working at the time of our review and the related inclusion in this archive, and so when we did our last test; it is provided by the software house and sometimes can be -temporarily- offline or so.
Please
kindly use the contact form
to report difficulties, strange behaviors or persistent problems, and quote the program name or the number 6863 .
ClickCharts Flowchart Pro and diagram software lets you lay out your ideas, organization, process or create UML diagrams. Create data flow or value stream diagrams and find process optimization by identifying bottlenecks. Export to jpg, gif, png.
(
ClickCharts Flowchart Pro Edition allows you to create visual representations.
)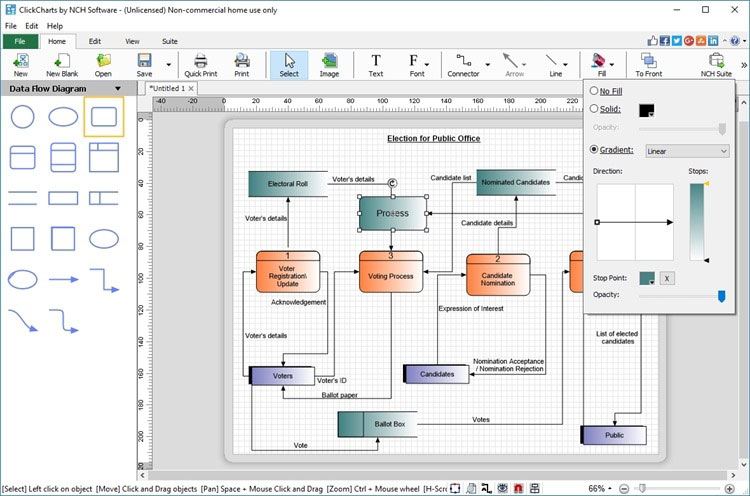 Download page for the app ClickCharts Pro Edition - Create flowcharts easily with this Windows software. Whether you're mapping out ideas, laying out the structure of your organization or creating UML diagrams, ClickCharts is the perfect user-friendly program to get you going. Simplify complex processes, troubleshoot bottlenecks and find areas for improvement. Organize your ideas visually and make even the most complicated process easier to understand. The intuitive user interface helps you choose from a variety of symbols, shapes and colors to uniquely convey your ideas.

ClickCharts Pro features:
*Open multiple diagrams and edit simultaneously.
*Print large diagrams with seamless sheet overlapping.
*Export flowcharts as image files such as jpg, gif, png and more.