App Program AllMyNotes Organizer Deluxe Edition download
Want a better software to manage your Web site more quickly and efficently? Click here for more info about EasyWebEditor...
Websites and CD DVD product catalogs with a single professional tool, in a single step? Yes it is possible:
HyperPublish
(BELOW!) FREE DOWNLOAD LINKS FOR:
AllMyNotes Organizer Deluxe Edition 3.21
All My Notes Organizer - an eye-candy random information manger app! Save every bit of your info safely hidden from prying eyes. With this outliner app saving ideas, notes, thoughts and storing diaries is a pure pleasure - UI themes, alarms, lightweight database engine! We've done everything to make you feel pleasure from your work :)
(description, more information,
click here - AllMyNotes Organizer - breath-catching information keeper programme!
)
File size: 5254 Kb
Free Download link 1:
Click here to start the download for AllMyNotes Organizer Deluxe Edition (then choose Save)
WARNING
: we suggest to scan the files with an
antivirus
before installing them - we do our best to screen each file reviewed on GetSoftware, but we don't re-scan them each day, and so, better safe than sorry!
The download link was perfectly working at the time of our review and the related inclusion in this archive, and so when we did our last test; it is provided by the software house and sometimes can be -temporarily- offline or so.
Please
kindly use the contact form
to report difficulties, strange behaviors or persistent problems, and quote the program name or the number 6297 .
AllMyNotes Organizer - a perfect random organizer! Save your personal information safely hidden away from prying eyes. Thanks to this app saving ideas, memos, and storing diaries is a pure happiness.
(
AllMyNotes Organizer - breath-catching information keeper programme!
)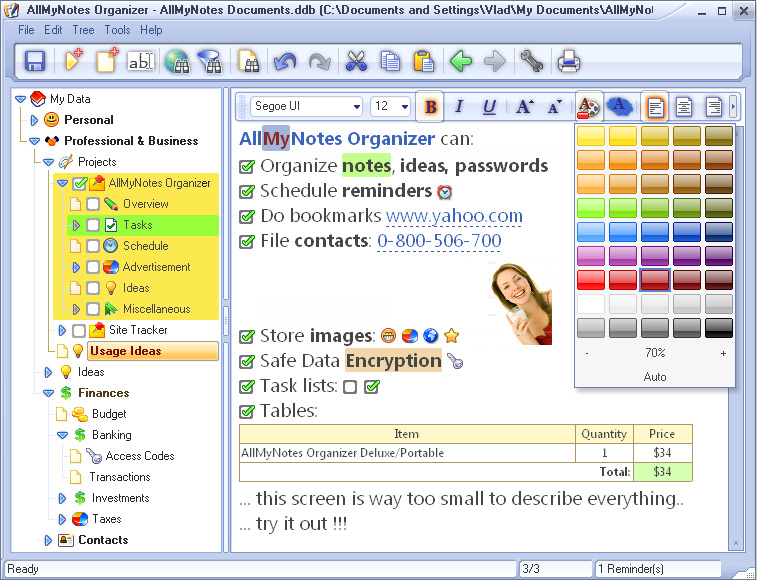 Download page for the app AllMyNotes Organizer Deluxe Edition - Thanks to AllMyNotes Organizer app all your valuable data is stored safely away from other people, secured by password, in a single, encrypted file, and records are arranged into a flexible outline tree structure.

Where do you usually keep all your sensible private notes, like, access codes, passwords, random ideas, secret memos, reminders, phones and urls. Did you ever found yourself lost in tons of papers, stickers, and random text files? Now, there is an exceptionalsolution! An ultimate outliner for managing any info!

It's the best solution of tools for capturing diaries, notes, thoughts, letters, urls, contacts, ideas, quotes, access codes, goals, access info, and simply unlimited number of other things.

Major features are: Instant Search across all notes, a Rich-Text and yet simple Text Editor, safe data storage, data Access Restriction by Password, an advanced Password Generator Utility, Icons, Reminders, Tables, Tasks, Scanning, Free-form outline tree structure, Automatic-Backups, UI Skins, Multilingual, Import and Export.

Almost impossible to define all possible usage ways for this kind of app, so ,go ahead, give it a trial, be convinced - everyone can find a valuable use of this kinf of app!