Want a better software to manage your Web site more quickly and efficently? Click here for more info about EasyWebEditor...
Websites and CD DVD product catalogs with a single professional tool, in a single step? Yes it is possible:
HyperPublish
(BELOW!) FREE DOWNLOAD LINKS FOR:
Advanced Diary 5.0.1
If you are looking for journal software, then look no further than Advanced Diary; a complete solution for anyone who wants to have a private, digital diary. This diary software supports multiple diaries stored in a single database file, making it unique amongst such programs. Full rich text formatting, audio and video recording are also supported and the program may also be run straight from a USB flash drive or other media.
(description, more information,
click here - Use diary software to keep your life organized and record your daily activities.
)
File size: 30557 Kb
Free Download link 1:
Click here to start the download for Advanced Diary (then choose Save)
WARNING
: we suggest to scan the files with an
antivirus
before installing them - we do our best to screen each file reviewed on GetSoftware, but we don't re-scan them each day, and so, better safe than sorry!
The download link was perfectly working at the time of our review and the related inclusion in this archive, and so when we did our last test; it is provided by the software house and sometimes can be -temporarily- offline or so.
Please
kindly use the contact form
to report difficulties, strange behaviors or persistent problems, and quote the program name or the number 6626 .
Advanced Diary is digital diary software for anyone who needs to keep regular records. Supporting multiple diaries in one database file, rich text formatting, video recording and much, much more, this software provides the ultimate solution.
(
Use diary software to keep your life organized and record your daily activities.
)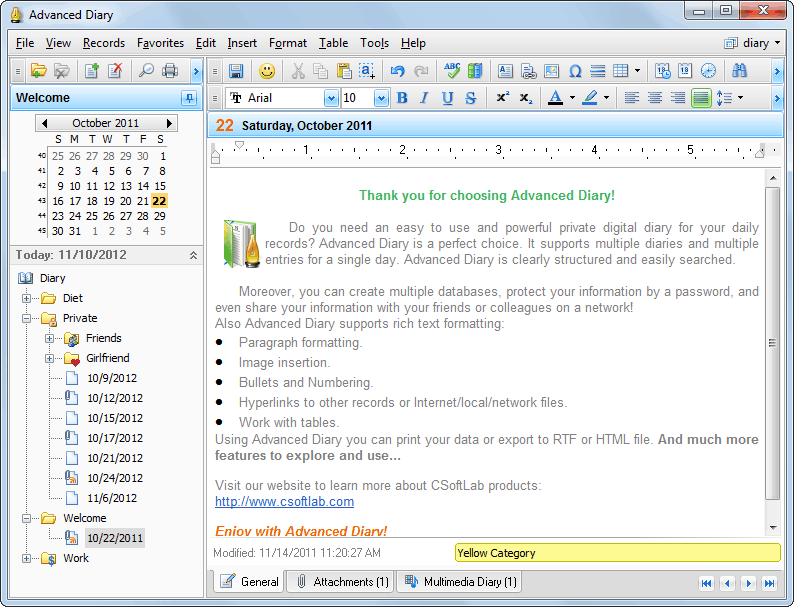 Download page for the app Advanced Diary - Advanced Diary is journal software with an abundance of features and complete ease of use. This diary software is unique in that it allows you to store multiple diaries in a single database file for added convenience.
Regardless of the reason for using a digital diary, Advanced Diary provides users with a wide range of highly useful features. Multiple entries can be made for the same day and rich text formatting is fully supported. Using this program you can create not only text diaries: audio and video recording are supported too! Images, tables and diagrams can also be added to entries along with file attachments and hyperlinks to websites, locally stored files or other entries in the database are also supported. With a clean and easily navigable interface, you can start getting the most out of Advanced Diary right away.
You can also protect your databases with a password, and even share your information with your friends or colleagues on a network!. It can also be run straight from a portable drive, such as a USB flash drive, so you will always have your diary with you and you can edit it on any computer.
To find out more, visit our website.