Want a better software to manage your Web site more quickly and efficently? Click here for more info about EasyWebEditor...
Websites and CD DVD product catalogs with a single professional tool, in a single step? Yes it is possible:
HyperPublish
(BELOW!) FREE DOWNLOAD LINKS FOR:
RecordPad Professional Edition 8.01
RecordPad Professional Edition is a sound recording program for Windows PCs. Using RecordPad you can quickly and easily record audio notes, messages, or announcements in either wav or mp3. RecordPad is designed to be very easy and intuitive to use. Within minutes you will be able to start an audio recording, save it, and replay the file.
(description, more information,
click here - RecordPad Professional is an audio recording program for Windows
)
File size: 1085 Kb
Free Download link 1:
Click here to start the download for RecordPad Professional Edition (then choose Save)
Free Download link 2:
https://www.nch.com.au/recordpad/rpsetup.exe
WARNING
: we suggest to scan the files with an
antivirus
before installing them - we do our best to screen each file reviewed on GetSoftware, but we don't re-scan them each day, and so, better safe than sorry!
The download link was perfectly working at the time of our review and the related inclusion in this archive, and so when we did our last test; it is provided by the software house and sometimes can be -temporarily- offline or so.
Please
kindly use the contact form
to report difficulties, strange behaviors or persistent problems, and quote the program name or the number 5547 .
RecordPad Professional Edition is a quick and easy audio recording software. With this program you can record voice, sound, music, or any other type of audio. RecordPad Pro is ideal for recording audio for digital presentations.
(
RecordPad Professional is an audio recording program for Windows
)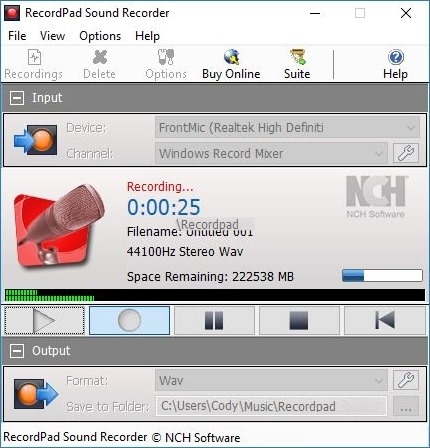 Download page for the app RecordPad Professional Edition - RecordPad Professional Sound Recording Software is a simple recording software for Windows. RecordPad Professional is ideal for recording audio for use in digital presentations and projects. The size of the installation is small and downloads quickly. You can use RecordPad Pro to record sound, voice, music or any other audio type. Recording audio on your computer has never been easier. Easily use the software to record audio notes, messages, announcements in wav or mp3 files.
RecordPad Professional Edition Features:
* Record sound, notes, voice, music or any other audio
* Save recordings in wav or mp3 format
* Voice activated recordings
* Use HotKeys to control the software even while working in other programs
* Simple and robust for personal, professional, and corporate use