Want a better software to manage your Web site more quickly and efficently? Click here for more info about EasyWebEditor...
Websites and CD DVD product catalogs with a single professional tool, in a single step? Yes it is possible:
HyperPublish
(BELOW!) FREE DOWNLOAD LINKS FOR:
MixPad Masters Edition 5.10
MixPad Masters Edition Multitrack Recording Software for Windows allows you to access all of the audio tools needed to create professional mixes and recordings. You can record single or multiple tracks. Add effects to your sound clips such as EQ, reverb, and more. When you are done mixing your audio, output the file to mp3, CD, or many other file formats. MixPad Free supports VST plugins to add additional effects.
(description, more information,
click here - MixPad Masters Edition allows you to create professional recordings and mixes.
)
File size: 1419 Kb
Free Download link 1:
Click here to start the download for MixPad Masters Edition (then choose Save)
Free Download link 2:
https://www.nch.com.au/mixpad/mpsetup.exe
WARNING
: we suggest to scan the files with an
antivirus
before installing them - we do our best to screen each file reviewed on GetSoftware, but we don't re-scan them each day, and so, better safe than sorry!
The download link was perfectly working at the time of our review and the related inclusion in this archive, and so when we did our last test; it is provided by the software house and sometimes can be -temporarily- offline or so.
Please
kindly use the contact form
to report difficulties, strange behaviors or persistent problems, and quote the program name or the number 7265 .
MixPad Masters Edition is a music recording and mixing software designed for easy audio production. Mix music, vocal, and audio tracks. Adjust the volume, pan, fade and more with MixPad as your digital mixing desk.
(
MixPad Masters Edition allows you to create professional recordings and mixes.
)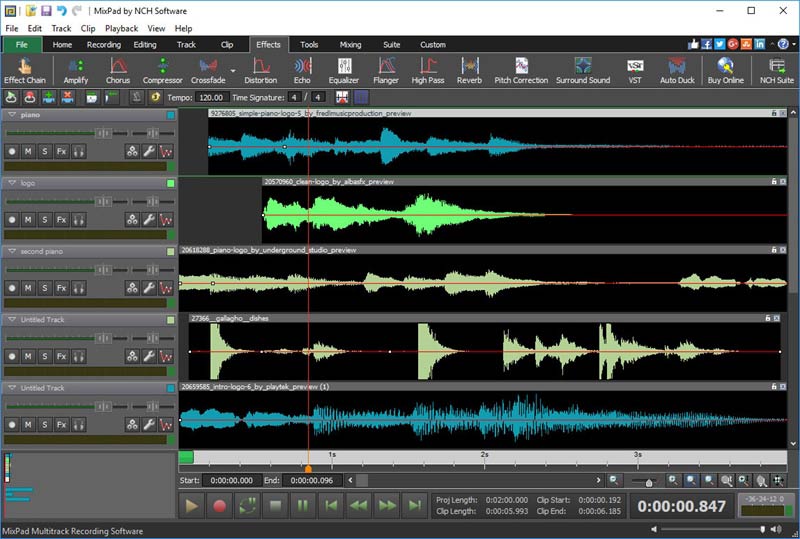 Download page for the app MixPad Masters Edition - MixPad Master's Edition is a music mixing multitrack recording studio software created for professional music production. With MixPad Music Mixer you can mix an unlimited number of music, vocal and audio tracks with support for more formats than any other mixer. Simply drag and drop your tracks in or record your own tracks. Edit your tracks and by using trim, silence, merge and many other editing tools. Use ID Tag to track the details of your music.

If you're looking for additional sounds, pull audio from the NCH Sound Library. Add audio effects including EQ, compression, reverb and more. Make your sounds more interesting by applying fun interesting effect. Create your own midis and beats directly in MixPad. Stay organized and make quick references using Bookmarks. Mix to mp3, burn to CD or seamlessly upload your audio to SoundCloud through MixPad.

MixPad Audio Mixing Features:

* Very low latency for sample accurate recording.
* Record single tracks or multiple tracks simultaneously.
* Supports a range of audio formats including wav, mp3, vox, gsm, and many more.
* Use the VST plugin support for added studio effects and instruments.