[
Homepage
] - by:
AssistantTools.com
-
Download links for Mp3 Tag Assistant Professional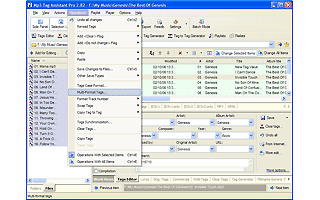 Click to enlarge
Description:
Music filenames are often inconsistent and erroneous. Mp3 Tag Assistant Professional
allows you to change filenames based on their tagged information saving you time and
effort. Automate the tedious task of changing tagged information in MP3 WMA M4A (iTunes) FLAC APE OGG OFR MPC SPX WV TTA files. Easily copy or move music files, create playlists and filelists, change filenames, edit lyrics and coverart.
Make your audio files complete by filling in detailed information such as main
tags, original tags, commercial information, lyrics, comments and coverart. Tagged information can also be filled in automatically by connecting to Freedb.com.
Save hours of manual labor by working in Batch Mode using special feature 'Actions', allowing you to edit very large lists of music files!
Additional Features:
* Supports MP3, WMA, MPEG-4 iTunes (M4A), FLAC, Monkey's Audio (APE), Ogg Vorbis (OGG), Musepack (MPC), WavPack (WV), OptimFROG (OFR), Speex (SPX) and The True Audio (TTA) files.
* Supports UNICODE symbols in audio tags. You can use symbols of your national alphabet in
WMA/MP3 tags (diacritic symbols, umlauts, hieroglyphs, etc.).
* Supports ID3v1 and ID3v2 MP3 tags, WMA metadata, iTunes metadata, APE tags and Vorbis comments.
* Freedb (CDDB) support.
* Playlist operations (create, open, change, save). Quickly create PLS/M3U playlist from folder.
* Copy/Move your files using templates.
* Batch tag editing, file renaming.
* Generate filenames using information from tags.
* Generate tags from file and folder names.
* Generate CSV, TXT, XML filelists and PLS, M3U playlists.
* Add comments and lyrics to tags.
* Edit attached picture (artwork).
* ID3v1<>ID3v2 tags synchronization.
* Copy tag to tag, move and swap tags.
* Format a tag "Track#".
* Multi-format the tags. You can add a new value to several tags.
* Automatic and manual change the case of tags and filenames.
* Wizard to help edit files.
* Integration with Winamp and a built-in MP3 player.
Recent changes in this New Release:
Change tag encoding dialog (ANSI <> UNICODE). 'Set characters number' feature in the templates. Fixed problems with BPM and Grouping tags. Fixed minor bugs.
Remarks - Comments
(
Add a remark about this program
)
<!Comments><!Comments>